Our company has been incorporated since 12 years ago in 1991 under the name of FRUITLAND IMPORT & EXPORT. In keeping up with our expanding business, we have formed another company name as EXOTIC STAR (M) SDN BHD in 2001. Since the opening of the new Wholesales Market Pasar Borong Puchong in 1999, we are opening 2 units of shops there to market for local fruits retailers.

EXOTIC STAR (M) SDN BHD is recognized throughout the country as one of the leading exporters in Malaysia, specialized in exporting top quality of Tropical Fruits to worldwide, mainly Asia and Europe. As prominent tropical fruits exporter, we are also an investor in agricultural land and expertise in cultivation of fruits. At present, we have cultivated 600 acres for papaya & star fruit and working on another 100 acres of land for plantation of others tropical fruits. Apart or these, we have as well others plantations like watermelon, jackfruits and pineapple.

Mostly our fruits supplies come from our own plantations specially grown for export quality. Besides this, we also undertake contractual farms supplies from local growers. Our packing system of fruits is geared to using the most experienced and efficient staffs where the high quality of fruits will be well maintained. To maintain our high standards and reputations, we have adopted a quality control division to sees to our customer's individual requirements.

Our Products

Listed below are the various types of Tropical Fruits available for local and export markets:-

1. Solo Papaya
2. Large Papaya
3. Starfruits
4. Watermelon & Honey Melon
5. Guava (seed / seedless)
6. Mangosteen
7. Jack Fruit
8. Mango
9. Pineapple
10. Durians & etcs
Our Policy

With comprehensive knowledge and experience, we believe that by having us a supplier, one will be assured of our consistent supply of high quality products at competitive prices. Our policy is to establish a long-term business partnership with our customers in order to gain mutual trust, understanding and long term benefits.
Our Contacts
Office Phone:
Office Fax:
603-87332299 / 87345388
603-87347388
Contact person:
Mr. Jeffrey Choong (MD),
Amanda Lum (Admistrative & Marketing Manager) or
Karen Tan (Marketing Executive)
Mobile phone:
012-3838826 (Jeffrey Choong),
012-2823335 (Amanda Lum) or
012-7663547 (Karen Tan)
HQ/Mailing Address :
EXOTIC STAR (M) SDN BHD
No 17-18, Jalan SC 4, Pusat Perindustrian Sg Chua,
43000 Kajang, Selangor, Malaysia.


Management Structure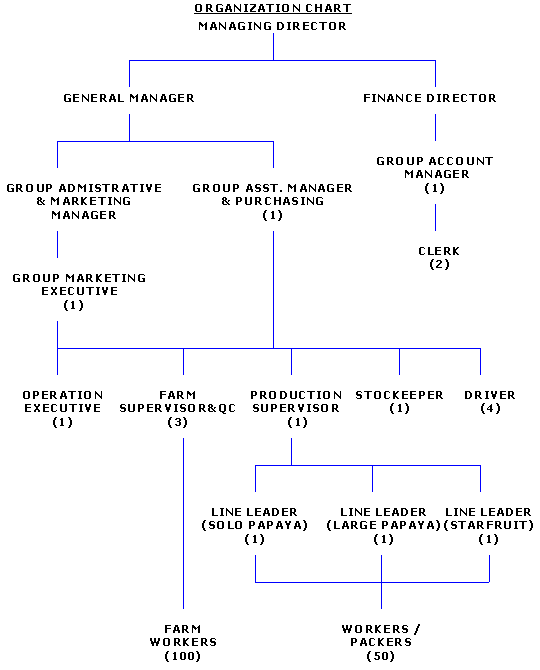 ---

Key Management
A. Jeffrey Choong Wong Thiam – Chairman and Managing Director
B. Leong Soon Peng – Finance Director
C. Ringo Fong – Group General Manager
D. Sally Teng Siew Leng – Group Account Executive
E. Amanda Lum Peck Wan – Group Admistrative & Marketing Manager
F. Noorkhushairee Abdul Aziz – Group Asst. Manager & Purchasing
G. Karen Tan Chin Peng – Group Marketing Executive
H. Chong Kok Keong – Operating Executive

Subsidary Companies
EXOTIC STAR (M) SDN BHD
Operation: Main Company
Import & export of exotic fruits for international market.
EXOTIC STAR PLANTATION SDN BHD
Operation: Land cultivation and fruits plantation.
GLOBAL EXTRA SDN BHD
Operation: Export fresh agricultural products especially to European countries.
FRUITLAND IMPORT & EXPORT
Operation: Wholesales for local market at Pasar Borong Puchong & Selayang.
TRUFRUT FOOD INDUSTRIES SDN BHD
Operation: Fruits processing, dried fruits, juices & puree.
PANASIA TRADING
Operation: Trading for packing material, chemical, fertilizer etc.


---